ARES / DCARC NETS

DeKalb County ARES Emergency Coordinator
Tom Whitehurst, KC5UN
kc5un@arrl.org 256 845 5335
Emergency Deployment Preparedness
Information regarding alternative repeater options in case of 147.27 failure.
Emergency Repeater Information
Proper protocols and procedures for emergency net participation.
Procedures for reporting of weather events.
Net Schedules
Monday 7:30 pm Central Time -- Alabama Emergency Net Zulu Net
Thursday 6:30pm Central Time -- Dekalb County Practice Weather Net
Net Preambles
Alabama Emergency Net ZULU Preamble
All radio operators are welcome to participate in our nets. These nets allow practice for the net control operator as well as all operators that check in. We never know when this practice will be used for real in bad weather or lifesaving emergency situations. Radio operators can be called upon at any time of day or night to provide communications for local, county, state, national or international. The AENZ net results are relayed to the ARRL and the Practice Weather Net results are relayed to the weekly North Alabama SKYWARN net.

North Alabama Weather Stations
The DeKalb County Amateur Radio Club supports DeKalb County EMA, North Alabama SKYWARN and routinely conducts training to better help serve all persons in time need.
Our weekly Nets prepares each participant for on air conduct and coordination when needed for real time emergency communications.
Spotter training classes prepares the amateur radio operator for critical severe weather related knowledge. We are fortunate to have the National Weather office come to our county to conduct training.
Here are some of the local tragic events where we used our extensive training to serve the public and multiple government agencies. The Rainsville Tornado on April 22 1997 superceded our monthly club meeting that night. Many amateur radio operators provided extraordinary help when we needed it most. Several amateurs traveled from the Marshal County ARC to provide communications for health and welfare traffic.
Huntsville Tornado, Nov. 15, 1989
Huntsville, Alabama, was struck by a deadly tornado around 4:30 pm on Wednesday, November 15, 1989. From an initial touchdown point on the Redstone Arsenal, the storm cut a destructive, 18.5-mile swath on its northeast trek across the southern sections of Huntsville. Plowing through businesses and heavily populated residential areas of the city, the tornado left a tragic legacy; 21 dead, 463 injured and damage estimated at 100 million dollars. Twelve of the 21 fatalities occurred in automobiles as many persons were homeward bound during the afternoon rush hour. The storm was rated an F4 on the Fujita Tornado Intensity Scale.
Palm Sunday, Tornado Outbreak, March 27, 1994
Dekalb County - Tornado (F3)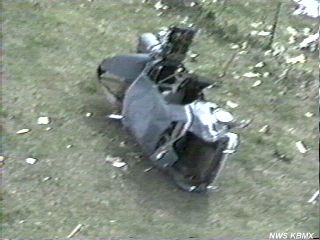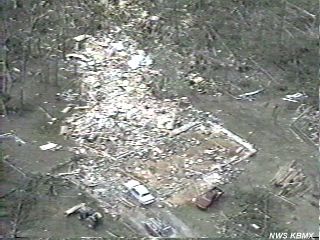 A tornado struck near the Grove Oak area in the western sections of DeKalb County moving northeast through the towns of Rainsville, Sylvania, and Henager. In the path of the tornado, Emergency Management personnel reported 16 homes and 13 mobile homes completely destroyed, 45 homes and 2 mobile homes with major damage, and 21 homes and 9 mobile home with minor damage. Two businesses and 12 poultry houses were destroyed. In addition, 0.75 inch hail reported at Sylvania at 1148 am CST, at Henager at 1157 am CST.
At 1150 am CST golf ball size hail was reported in southern Cherokee County, 10 miles southeast of Centre, with the thunderstorm that produced the tornado.
Rainsville Tornado,
April 22 1997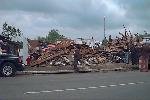 The tornado track was 5 miles in length beginning approximately 3 miles southwest of Rainsville and traveled five miles through the center of Rainsville ending about 2 miles northeast of the center of Rainsville. The tornado was 220 yards in width at its widest. On the Fujita scale for tornado classification which ranks tornadoes from F0 for the weakest to F5 for the most violent storms, this tornado was rated as an F2. This places the wind speed in the range from 113 to 157 miles per hour.
The tornado began at 3:53 pm 3 miles southwest of Rainsville, just south of the intersection of County Roads 92 and 72. The tornado moved northeastward directly through the downtown area of Rainsville where the fire and police station was severely damaged along with a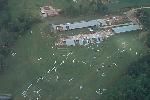 number of commercial buildings. The tornado continued northeast crossing Dilbeck and Marshall Roads before ending about 2 miles northeast of Rainsville on the east side of Marshall Road. The tornado severely damaged a large poultry raising facility and debris from the chicken houses was blown over half a mile further to the northeast. The tornado had dissipated by 4:01 pm. Rainsville officials put the tornado in downtown Rainsville at 3:57 pm.